Skin Tightening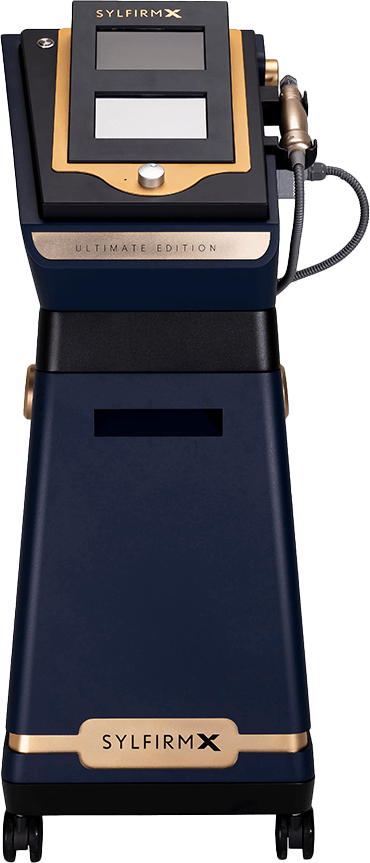 Sylfirm X Radiofrequency Microneedling
The Sylfirm X Ultimate Edition is the first and only FDA-approved dual-wave (with both continuous wave and pulsed wave) RF microneedling device. It combines radiofrequency energy with tiny microneedles that deliver energy into the skin. The device is "tunable," in that both the needle penetration depth and energy level can be dialed up or down.
Sylfirm X Treatments Can:
Even and tighten crepey skin of the arms, abdomen, thighs, and other areas of concern
Target stretch marks
Lighten pigmented discoloration
Ameliorate scars
Improve the appearance of vascular lesions
What to Expect
Topical anesthesia is applied 45 minutes before each treatment session. Depending on the area(s) to be treated, a session may take about 30-60 minutes. Applications of the tip may feel different in one area compared to another based on the depth, treatment area, and the treatment goal (e.g. addressing scarring versus vascular lesions). While improvement in skin texture and tone can be seen immediately, multiple treatments scheduled four to six weeks apart yield more appreciable improvement, especially as collagen regeneration increases over time.
Following each treatment, Exosome Regenerative Complex is applied to the area(s). This cool, soothing application of 2.5 billion stem-cell-derived lyophilized (freeze-dried) exosomes, contains potent growth factors, peptides, coenzymes, minerals, amino acids, and vitamins to produce a 300% increase in elastin and a 180% increase in fibroblasts. This biotech breakthrough enhances the skin rejuvenation of Sylfirm X.
TempSure® Firm
Tighten Skin and Smooth Cellulite
Using the same revolutionary radiofrequency (RF) platform as the TempSure® Envi for the face, TempSure® Firm painlessly delivers monopolar RF energy to tighten and smooth areas such as the abdomen, arms, buttocks, and thighs. The 300W generator ramps up to 4MHz, the temperature sensor detects when the therapeutic temperature (42C) has been reached 100x faster than other RF devices, then the unique Therapeutic Logic Control (TLC) feature activates a timer so the generator will maintain the set temperature throughout the timed treatment. Three handpieces, 25mm to 60mm in size with specialized massage heads, are used for consistent and customizable applications. You will feel a warming sensation and hear soothing spa tones. The combination of thermal RF energy and massage stimulates collagen and elastin, tightens skin, and helps improve the appearance of cellulite.
TempSure® Firm Body Treatments Provide:
Safe, even heating
Quick treatment times-generally 5 minutes per area (e.g. abdomen, each inner thigh, each outer thigh, etc). Most patients benefit most from 5-8 treatments one to two weeks apart to see results.
Comfortable and gentle treatments
Treatments are suitable for any skin type and can be performed any time of the year
No downtime
What to Expect
FlexSure® Wrappable RF Treatment
The world's first wrappable Radio Frequency applicator is here! FlexSure® delivers hands-free, non-invasive deep tissue RF treatments in only 15 minutes. The flexible applicator curves and conforms to multiple body parts including abdomen, flanks, back, arms, buttocks, thighs, and knees. Treatments are customizable, safe for all skin types, and there are no BMI restrictions.