Firming Treatments
Sylfirm X Radiofrequency Microneedling
Sylfirm X Ultimate Edition, the world's first and only FDA-registered dual-wave radiofrequency microneedling device maximizes treatment of vascular pigmentation during the pulsed wave (PW) modes and skin rejuvenation during the continuous wave (CW) modes. It features bipolar non-insulated microneedles to precisely and uniformly reach the targeted dermal layers. Treatments are quick, safe for all skin types, without downtime, and produce measurable results even after the first session.
Sylfirm X Treatments:
Lighten pigmented lesions/areas, including melasma
Address vascular lesions such as rosacea and inflammatory acne
Smooth, and sometimes eliminate, acne scars and other cicatrices
Diminish fine lines and wrinkles, e.g. on the forehead and around your eyes and mouth
Tighten skin to enhance and rejuvenate your overall facial appearance

What to Expect
Topical anesthesia is applied 45 minutes before each noninvasive treatment session. Depending on the area(s) to be treated, a session may take about 20-60 minutes. Applications of the tip may feel different in one area compared to another based on the depth, treatment area, and the treatment goal (e.g. addressing scarring versus fine lines). While improvement in skin texture and tone can be seen immediately, two to three treatments scheduled four to six weeks apart yield more appreciable improvement, especially as collagen regeneration increases, for three months to several years.
Following each treatment, Exosome Regenerative Complex is applied to the area(s). This cool, soothing application of 2.5 billion stem-cell-derived lyophilized (freeze-dried) exosomes, contains potent growth factors, peptides, coenzymes, minerals, amino acids, and vitamins to produce a 300% increase in elastin and a 180% increase in fibroblasts. This biotech breakthrough enhances the skin rejuvenation of Sylfirm X.
Tighten Skin with TempSure® Envi
CynoSure's FDA-approved TempSure® Envi uses non-invasive radiofrequency technology to activate collagen production by sending growth factor hormones to the dermis to tighten/smooth your skin and make it firmer from the inside out. reduce fine lines and wrinkles (for example of the forehead, crow's feet, smile lines, and frown lines), and tighten skin of any type. Although radio frequency heating devices, such as Ultherapy, Thermage, Thermi, and Pellevé, have been around for years, the TempSure® Envi is the most efficacious because of the way it delivers the radio waves to your dermis. Multiple handpieces are used to create customized facial and neck treatments.
TempSure® Envi Treatments:
Reduce fine lines and wrinkles (including crow's feet, smile lines, and frown lines)
Tighten skin
Immediate improvement with a temporary "glow"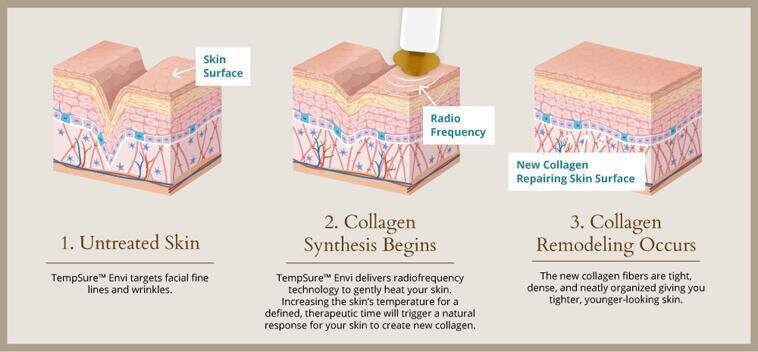 What to Expect
Sessions generally last 5-15 minutes per area of the face or neck and 45-60 minutes for the whole face. Heated ultrasound gel is applied to the skin and the handpiece is moved over the treatment area, delivering energy to the tissue. You will feel a gentle, warming sensation while listening to soothing spa tones. Like other non-invasive treatment modalities, you will achieve the best results with a series of treatment sessions (four treatments spaced two to four weeks apart). You will see some tightening after your first treatment although it continues to improve over the three to six weeks thereafter. Though the collagen generated from TempSure® Envi is permanent, gravity continues to be a force to be reckoned with, so returning every 6 to 12 months will help keep you looking your best. TempSure® Envi provides effective face and neck lifting without surgery for those who can't afford downtime or have a low pain threshold.
Pair Pigment Blasting PicoSure® with Skin FIRMING TREATMENTS
Give your skin premium attention by combining the advanced technology of PicoSure® with Sylfirm X and/or TempSure® Envi. Even skin tone and texture with PicoSure® then firm and tighten with Sylfirm X and/or TempSure® Envi, and enjoy the boost in collagen and elastin provided by both treatments.