Laser and Photorejuvenation
Refresh and Renew Your Skin with PicoSure®
The PicoSure® laser system provides a quick and easy non-surgical, non-invasive laser skin treatment that focuses on your problem areas (brown spots, sun damage, freckles, pigmented lesions, wrinkles, or acne scars) and can be used to treat many areas of the body including the chest or décolleté, face, hands, legs, and more. Contrary to the mechanism of most lasers which heat or destroy the skin and can actually exacerbate pigmentary conditions, PicoSure® converts laser energy into gentle pressure waves that shatter the pigment cells.
The revolutionary FOCUS™ lens array technology harnesses the power of the PicoSure® laser and directs it beneath the skin surface to stimulate collagen and elastin regeneration and produce a more youthful appearance without the typical discomfort and downtime associated with other laser treatments.
Unlike other lasers, PicoSure® is safe and effective for all skin types.
PicoSure® Targeted Pigment Treatment
Stubborn pigmentation from sun damage or chronic conditions such as melasma or chloasma can be significantly reduced by applying a series of direct laser pulses to the pigmented lesions.
PicoFacial: Skin Revitalization with PicoSure® FOCUS™ Lens Array Technology
For those patients who want to look younger and fresher but don't want the extended recovery period associated with more invasive treatments, a PicoSure® laser facial offers amazing rejuvenation with virtually no downtime.
Deluxe PicoFacial Treatment
This innovative treatment combines the precise pigment targeting of the PicoSure® laser with the FOCUS™ lens array technology to address signs of aging as well as pigmentation and results in more even skin tone and texture.
Photorejuvenate Skin with IPL
Lumenis® M22 Intense Pulsed Light (IPL)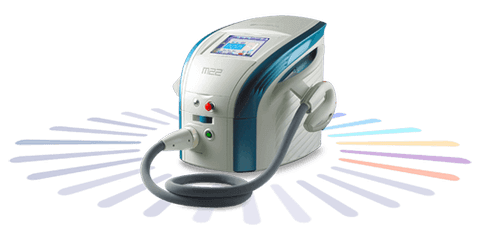 In addition to medical applications, the Lumenis® M22 IPL photo rejuvenates the skin by stimulating collagen and elastin fiber production, reducing pigmented age/sun spots, and closing broken capillaries.
Intense pulsed light of 400nm to 1200nm is transmitted through a continuously-cooled applicator gently placed on the skin. Cut-off filters in the handpiece control the range of wavelengths to optimize the treatments for different applications and skin types. Human skin, especially the epidermis, contains major solar ultraviolet-radiation-absorbing chromophores. Skin chromophores, which represent the color-producing areas of a molecule and give the molecule its color, are targeted and specifically heated by the light while leaving the surrounding skin unheated. For example, blood chromophores in vascular lesions and melanin chromophores in pigmented lesions, absorb and are then destroyed by the light. The body then naturally clears the debris of the treated lesions, resulting in more even and youthful appearing skin.
Achieve Maximum Results With Combination Treatments
Give your skin premium attention with the combined technologies of PicoSure® and IPL to treat pigment (IPL treatment is limited for some skin types) as well as TempSure® Envi and Sylfirm X to tighten and firm skin. These treatment modalities improve skin texture and boost collagen/elastin in unique ways.